Click here to see the map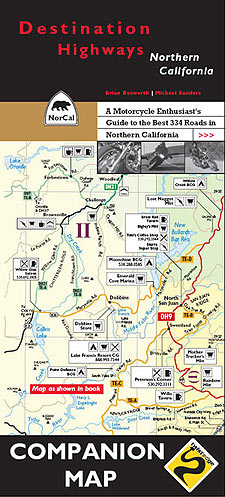 Click here to read the
back cover of the map

Click here to see the map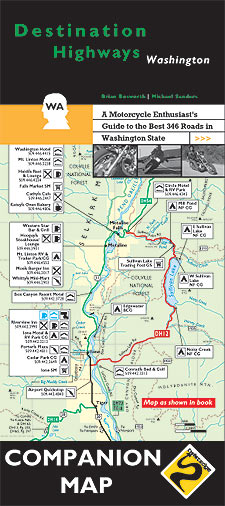 Click here to read the
back cover of the map
Click here to see the map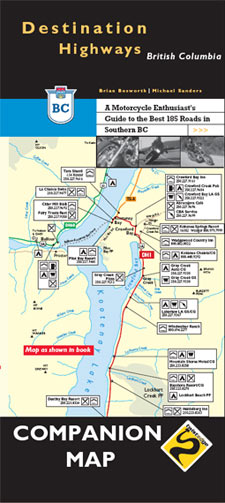 Click here to read the
back cover of the map
PDF JPEG "Category Killer Companion Maps" --Phil Herring examiner.com
"The DH NorCal Companion Map is AMAZING!" --Jeffrey C
"After consulting the book, I am putting all the DH's and some of the TEs on my GPS. Each night, I will decide which roads to ride the next day during my two week trip. The Companion Map is perfect for this. Using this technique I can avoid having to create a route beforehand for the whole trip." --Jim F
"I got the Companion Map with the WA book which I really, really like. I'm organizing a 7 day trip for 10 riders this summer who want to explore WA and this large map (double scale) is so, so good for this."
"Just received your DHBC Companion Map. Thanks for another nice product. As someone who works in the field of surveying and mapping, I appreciate the quality work and recommend you to all my fellow riding & driving enthusiasts." --Jeffrey

"Just rode down to Portland on all the Washington state back road DHs and TEs. Planned the trip with the DHWA book, created the routes on the GPS and traveled with the DHWA Companion Map. It makes everything come together. Great map, great detail... can't wait for the DHBC Companion Map!" --Hal
"DH NorCal and its Companion Map made the trip for our five aging sport bike guys. After DH29TE-H these five, fifty plus year olds thought I could walk on water! After many years and thousands of miles together I've never seen them happier. We even had a couple of local guys outside Sacramento ask us where a particular road came from/went to." --Chris P

"Outstanding stuff, I constantly recommend you to my fellow riders. DH NorCal and its Companion Map gave my son and I the best trip ever last summer, and we thought we already knew the roads in Northern California! This year we're going to Utah and Arizona, and without DH books or any knowledge of those states, its proven to be quite an exercise. It makes me appreciate your efforts all the more." --Barry W
"Picked up my third DH book, DH NorCal this Christmas. Thanks for the great books. By the way, the NorCal Companion Map is an excellent addition. Allows for the "big picture" when planning a trip and considering routes." --Ron B

"Just received your DHNCA Companion Map and it looks great! I've been riding for 45 years (in NorCal, Washington and BC for 27 years). I've got DHBC, DHWA and DH NorCal and am looking forward to DH SoCal. Thanks for these great books & maps that help me 'ride like a local!' " --Jim C
See more testimonials

Order the DH NorCal, DHWA or DHBC Companion Maps

WHAT ARE THE COMPANION MAPS?
The idea for the maps was actually suggested to us by riders who had our books. They told us that once they knew what motorcycle roads they wanted to ride based on the detailed information in the books and had got the services they needed from the maps in the books, they didn't want to beat up the books just to navigate the roads they'd chosen based on the book.

The Companion Maps are 100% synthetic, waterproof and rip proof, traditional accordion-style, fold-up maps that shows the coverage area of our books, half on one side and half on the other, so generally at least double the scale of most paper fold-up maps you are used to. And those maps are designed to get you from one city to another as fast as possible in a car on major highways, rather than to show you good motorcycle roads (which they often don't even show at all). And which fall apart after a couple of uses anyway. Our maps are the equivalent of blowing up the Northern California Half-State map from its 8 1/2 inch by 5 1/2 inch page in the book to an 80 inch by 56 inch map! And our maps are specifically designed to be a complementary companion piece to our books. Using the same unique DH and TE motorcycle road identifiers and regional breakdown of the books you can now see how all the best roads from the books' over 125 maps fit together on one convenient, traditional map. You'll see every DH and TE (334 in NorCal, 346 in WA, 185 in BC) in an overall "big picture" context that the books (and GPS) simply can't effectively provide.

I HAVE GPS, WHY DO I NEED YOUR MAPS AND BOOKS?
How does GPS show you where good motorcycle roads are? That's right, it can't. All GPS can do is show you the roads, it can't differentiate between 24 carat and fools gold, anymore than a regular map can. The "avoid major highways" setting doesn't quite cut it either, not when compared to "riding like a local". Don't get us wrong, we like and use GPS. It's a great tool to get you to a specific place. And it's (generally) great at telling you where you are, but it's not so good at telling you where you should be (at least until we put out
Digital Destination Highways to complement our books/Companion Maps).
I'VE GOT THE BOOK, WHY DO I NEED THE COMPANION MAP?
Technically, you don't. The books are self-contained and designed to work by themselves. However riders who love our books because they provide the knowledge to allow them to "ride like a local" even in areas they've never ridden in before, have asked us for Companion Maps. Here's why, and here's why they're a perfect companion to the books:

HOW YOU USE THE DH NorCal DH Washington and DH British Columbia BOOKS:
Our TIRES ratings and detailed DH (Destination Highway) and TE (Twisted Edge) descriptions allow you to find the motorcycle roads in Northern California, Washington State and British Columbia that you don't want to miss according to your riding style (for an example, see the Feature DH write-up and TIRES numbers.) Once you ride a few DHs, the TIRES numbers will start to make a whole lot of seat-of-your-pants sense and you'll soon be able to compare one DH to another before you even ride them, and make sure you do ones suitable to your style of riding. And you get the written description of each TE with all the pertinent details to let you know whether it'll be your kind of road.

The detailed information on the 125+ maps in each book lets you find the services you need to keep you on the road with the minimum amount of hassle (for an example, again see the Feature DH map). So if you're hungry or worried about gas, or if you want to keep riding for a couple hours more past the campground or motel you spot at 4:30 pm (but also don't want to be riding at 10 pm with no place to stay), the book will take care of you.

HOW YOU USE THE COMPANION MAP
Once you know which of Northern California's best 334 or Washington's best 346 motorcycle roads or BC's best 185 roads you want to do, and you're all serviced up, you only need to use the books to navigate with. This requires you to go back and forth between the maps in them. Now, you'll be able to stop pulling out your book and beating it up just to navigate. Pack it safely away and simply use the Companion Map to point the way. Pull the book out if you need to refresh your memory on what a DH or TE offers or if you need gas, food, drink, accommodation or a motorcycle dealer. But to navigate, let the rugged, convenient Companion Map take the brunt of letting you know where to go next. It also makes your road-to-road navigation much faster and easier. Not only does it simplify on-the-road navigation and ease route planning, but because it shows all the DHs and TEs in context with each other on one map, you can see the "big picture" in a way that the 5.5 X 8 inch pages in the book can't (nor can that tiny little GPS screen). And because the maps relate perfectly to the books, with the same Regional breakdown and the same road identification system, when you need to refer back to the book, we make it easy to do so.

Order the DH NorCal, DHWA or DHBC Companion Maps

WHAT DH NorCal, DH Washington, DH British Columbia AND THEIR Companion Maps DO FOR YOU

Our 34,000 mi (54,000 km) of research riding in Northern California, 28,000 mi (46,000 km) in Washington State and 25,000 mi (40,000 km) in BC guarantee that with Destination Highways™ you'll know where all the good riding is and where the services you need are, even if you've never ridden in these jurisdictions before. Even most locals in these three places, once they get out of their own area, rely on the same bad maps as everyone else that are designed to get you from one city to the next as quickly as possible on the most major roads available (and damn, are they good at that).
Sure, you see some of those side roads that regular maps mostly don't even show as you go by them but you have no idea which ones are crap, or just a waste of time and expensive gas, and which ones are solid gold (and GPS, handy as it is, can't help you here). Well not any more (see Testimonials). With Destination Highways™, make the most of your valuable time, rubber and gas on the best possible roads in a given area, rather than wasting them on mediocre roads and/or major highways. All for the price of a few tanks of gas (which you soon won't be wasting quite so much of any more).
The hit-and-miss "I just like to get lost" approach isn't the answer. Problem with that is you miss way more than you hit.
Life's too short and there are too many good roads you shouldn't miss to spend the limited riding time (and $$$) most people have riding ones that are not so good. Destination Highways™ gives you something no other book, map, website, forum or GPS unit can give you: comprehensive knowledge of where all the best roads are (and what they're like).
Here's what non-locals riding with our books often experience:
"We even had a couple of local guys outside Sacramento ask us where a particular road came from/went to."

"We had a couple of locals follow us and ask how we knew about these roads. They'd lived there for years and had never found them! We told numerous locals (including a friendly state trooper) about the book and they all said they were going to run out and buy it!"
"I just retired and moved to Eureka, NorCal. I have found roads in the area using your book that even the locals don't know about!"
And now with the Companion Maps, it's even easier than before to ride the best motorcycle roads. So why ride like a tourist, when you can ride like a local?

And you don't have to believe us, here's what reviewers and riders say our books/maps do for them.