Video is optimized for broadband access. Wide-angle lenses used to record video straighten the curves out. For a truer sense of twistiness watch the mirror dip .

At a Glance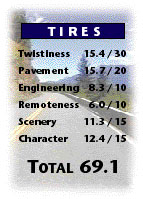 We were surprised to read in The B.C. Pedaler that this scenic and twisty route through the lower Slocan Valley has been discovered by bicyclists as an "excellent route for a challenging but quiet pedal." Obviously, the author has yet to encounter a red-lining Honda CBR XX Blackbird blowing by. Complete with after-market pipe, of course. Don't be fooled by the slow, rather straight start through farm country. When the valley narrows, and the long run along Slocan Lake begins, this road rocks. It offers curves of every description as it sweeps high above the lake, corkscrews along a creek bed, then descends gracefully along the lake into Silverton and New Denver. And as for our spandex-clad brethren, we're more than happy to share the road with those who stick to the shoulder. That is, unless we need it.
"What a great ride! Many miles of new pavement is always fun and I enjoyed this day ride as much or more then any road I have been on in my thirty years of riding in Montana! I'm looking forward to the next time!"
"I'd say this is ABSOLUTELY the most under-appreciated DH in the book. Sure, the south end is a little monotonous, but start from the south. You will be grinning from ear to ear by the time you reach Silverton. Just watch the video and you'll see just how tasty this one is. I've ridden almost all of the top 40 DHs and this is one of my favs!" --Gord Hooker '00 VFR800