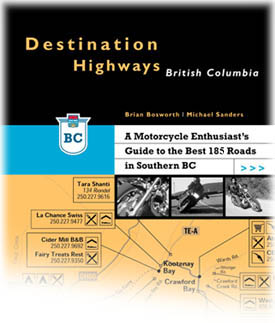 A Destination Highway, simply put, is a road you'd travel to, to journey on. And Destination Highways B.C. is the most comprehensive guidebook ever produced for the enthusiast touring British Columbia motorcycle roads.

Using TIRES, or the Total Integrated Road Evaluation System, Destination Highways B.C. rates roads and highways from the motorcyclist's special perspective. TIRES identifies and evaluates road elements-- some obvious, some not-- that, together, determine if a road is good enough to be called a Destination Highway.

In evaluating a road, TIRES counts and categorizes every curve, classifies every kilometer (0.62 miles) of Pavement, and assesses overall Engineering. It also rates the Scenery, Remoteness, and Character of a road. All these factors combine to determine a road's total TIRES rating out of 100. With this total, the road earns its DH number-- its ranking among southern B.C.'s 85 Destination Highways.

While the total rating of every Destination Highway shows how one DH compares to another overall, that isn't always enough. Two roads with close, or even identical total ratings, may offer entirely different riding experiences. So TIRES goes further, providing a detailed breakdown invaluable for riders who prefer a specific type of road. Looking for twisties? Is it that remote, biking-in-Canada experience you seek? Are you a stickler for smooth pavement? TIRES lays it all out for you. MORE...
On our website the "Feature" Destination Highway is shown complete with all its components, exactly as each of the 85 DHs is shown in the book, "Destination Highways BC". That is, you see "At a Glance", "Access", "On the Road", "Twisted Edges" (if there are any) as well as the DH's map and its TIRES rating. You also can see a clip of video taped when we researched the road. (Our helmet cams provide a terrific rider point-of-view!)

We change the Feature DH on an irregular basis so you can see what we say about different Destination Highways. The website shows all other DHs as "Non-Feature" DHs, with "At A Glance", TIRES and a video clip to give you some sense of each road.