Feature Destination Highway: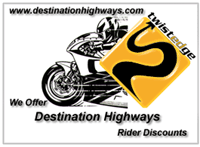 The businesses below displaying the sticker to the left offer a "DH Rider Discount". Print this list off, take it with you, show your copy of DHBC (or DHWA) and ask for the discount. Use a few of these and it's like getting the book(s) for free!

If you're a business who wants to attract the increasing number of Destination Highways motorcyclists in your area, join our Destination Highways Discount Program described below the listings at Add Your Discount.



They'll meet you in Washington (at Seattle's SeaTac airport, for instance) with a rental bike so you can have the motorcycle trip of a lifetime
touring BC & Washington. Non-Canadians may want to consider this option, because Seattle is so close to BC.
( $50 discount off your rental if you show them a copy of one of our books!)


Alberta

Banff Springs Bowling Centre & Internet Cafe (Banff) New 2007
403.762.6892 www.bowvalleybowling.com
Bowl 1 game & get 2nd game free per person
If you're in Banff, how can you resist Glow in the Dark bowling? Just remember to change out of your leathers or other bowlers might think you're part of a surreal Village People reunion. Also get discount rates on Internet Rental. Located at the Fairmont Banff Springs Hotel.

Inn on the Border Resort/Restaurant (Crowsnest) New 2007
403.563.3101 www.innontheborder.com
10% off regular nightly room rate Apr-Nov (may require 2 night min in high season)
Right in the heart of the Crowsnest Pass on the Continental Divide (the restaurant is in BC, while the kitchen is in AB!) just off Hwy 3 at the old Crowsnest townsite. There are three 6-8 people cabins and for groups of four or more, the two night minimum will be waived Mon-Thu. They have a hot tub and they specialize in "prime rib and dual sport" so how cool is that?


Add Your Discount:
Destination Highways Discount Program

According to industry stats, the median age for pavement riders has risen to over 40. Today's motorcycle tourer is increasingly middle aged, middle class and well educated. And increasingly female: 40% of those taking rider training are women. These are the riders who buy and use Destination Highways.



"The number of riders that come and visit us is growing strongly."--Halcyon Hot Springs Resort, Nakusp BC
"Your site has been very beneficial to me already." --Cozy Quilt Motel, Yahk BC
Sign up below:
We list the name of your business/organization, town, phone number, email address and/or website (if you have either) and the discount you choose (percentage, fixed amount, two for one, specific item etc)
for FREE!!!
You can offer a discount for whatever period you choose and remove it anytime just by contacting us.
Participating businesses will receive by mail an instantly recognizable Destination Highways display
sticker that will encourage our riders to ask for the discount and also instantly identify an establishment offering a welcome reception to riders.
Any business with a website will be expected to display a reciprocal link to destinationhighways.com
(with logo) as described at:
http://www.destinationhighways.com/linkinfo.htm
To receive a discount a motorcyclist
must show you a copy of
Destination Highways BC or WA. Listings found by our mystery riders not conforming to this rule are subject to immediate removal from the website.
If you know any other businesses who might want to help attract motorcycl

e trade to your area, we urge
you to let them know about our discount program. The more that offer DH Rider Discounts, the better it is for every business in that area. Each discount gives riders one more reason to stop in your community rather than somewhere else.