Feature Destination Highway: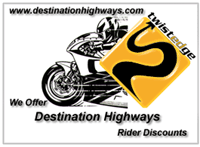 The businesses below displaying the sticker to the left offer a "DH Rider Discount". Print this list off, take it with you, show your copy of DHBC (or DHWA) and ask for the discount. Use a few of these and it's like getting the book(s) for free!

If you're a business who wants to attract the increasing number of Destination Highways motorcyclists in your area, join our Destination Highways Discount Program described below the listings at Add Your Discount.



They'll meet you in Washington (at Seattle's SeaTac airport, for instance) with a rental bike so you can have the motorcycle trip of a lifetime
touring BC & Washington. Non-Canadians may want to consider this option, because Seattle is so close to BC.
( $50 discount off your rental if you show them a copy of one of our books!)


South Vancouver Island & Gulf Islands

Oak Lane Victoria Bed and Breakfast (Victoria) DH Reviewed
877.870.2033 www.oaklanevictoria.com
10% off all rates (excluding specials)
We've checked out this B&B located in a quiet heritage neighbourhood, close to downtown attractions and major access roads. It features beautifully decorated and comfortable rooms, all with large closets and ensuite bathrooms. Exquisitely prepared breakfasts by Deborah include fresh baking. A common room is provided with internet access, books and newspapers, movies, beverages and snacks. There is an area to wash your bike and laundry facilities are available. Good value.

Cycle BC Rentals (Vancouver & Victoria)
250.885.2453 / 866.380.2453
www.cyclebc.ca
Free tank of gas on bike rentals of a day or longer.

Salt Spring Inn & Restaurant (Ganges) DH Reviewed New 2011
250.537.9339 / 837.537.9339 www.saltspringinn.com
10% off rooms
This charmingly renovated hostelry is right in the heart of Ganges on beautiful Salt Spring Island. Cozy rooms (small but very well-appointed and with EXCELLENT beds) are completely re-done but with such good taste and quality that the place doesn't look brand new. And considering what you can pay to stay on Salt Spring, this accommodation is quite reasonably priced. One nice touch that shows the attention to detail is the almost-good-enough-to-eat supplied soap and shampoo from the local island soap company. The spacious bar/restaurant is all woody and comfortable, the food was very good and the attached street-side patio is much nicer than than most on which to quaff a cold one on a hot Ganges day after a long (or short) ride. A bonus is that it's only a three minute walk to everything in this appealing island waterfront town. What else? The nearby, private covered parking and full bike wash area has excellent supplies to wash and detail motorcycles (Jeremy, one of the owners, is a rider/pilot/sailer, so he knows where you're coming from). If you go to check out the two Salt Spring DHs and assorted Gulf Island TEs, and you're a cheese fan, make sure to visit the two fromageries on the island, one sheep based and one Jersey cow based. Mmmmm, they both make great cheese, and allow tastings. Say hi to innkeeps Jeremy Milsom or Barry Edwards, they'll make sure you feel welcome!

Pizzability (Sooke) New 2012
250.642.7888 pizzability.com
10% off
The rigorous attention to the finest ingredients, homemade sauce and dough made on the premises leads to reputedly the best damn pizza there is to be had in town. all southern Vancouver Island, and maybe even in the whole country. The owner Clive is a rider and also Sec/Treas of the Vancouver branch of the Latin American Motorcycle Assoc. We know we're stopping in the next time we go through Sooke on our way between DH62 and DH18.

Add Your Discount:
Destination Highways Discount Program

According to industry stats, the median age for pavement riders has risen to over 40. Today's motorcycle tourer is increasingly middle aged, middle class and well educated. And increasingly female: 40% of those taking rider training are women. These are the riders who buy and use Destination Highways.
And "
"The number of riders that come and visit us is growing strongly."--Halcyon Hot Springs Resort, Nakusp BC
"Your site has been very beneficial to me already." -- Cozy Quilt Motel, Yahk BC
Sign up below:
We list the name of your business/organization, town, phone number, email address and/or website (if you have either) and the discount you choose (percentage, fixed amount, two for one, specific item etc)
for FREE!!!
You can offer a discount for whatever period you choose and remove it anytime just by contacting us.
Participating businesses will receive by mail an instantly recognizable Destination Highways display
sticker that will encourage our riders to ask for the discount and also instantly identify an establishment offering a welcome reception to riders.
Any business with a website will be expected to display a reciprocal link to destinationhighways.com
(with logo) as described at:
http://www.destinationhighways.com/linkinfo.htm
To receive a discount a motorcyclist
must show you a copy of
Destination Highways BC or WA. Listings found by our mystery riders not conforming to this rule are subject to immediate removal from the website.
If you know any other businesses who might want to help attract motorcycl

e trade to your area, we urge
you to let them know about our discount program. The more that offer DH Rider Discounts, the better it is for every business in that area. Each discount gives riders one more reason to stop in your community rather than somewhere else.