Feature Destination Highway: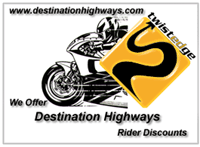 The businesses below displaying the sticker to the left offer a "DH Rider Discount". Print this list off, take it with you, show your copy of DHBC and ask for the discount. Use a few of these and it's like getting the book(s) for free!

If you're a business who wants to attract the increasing number of Destination Highways motorcyclists in your area, join our Destination Highways Discount Program described below the listings at Add Your Discount.



They'll meet you in Washington (at Seattle's SeaTac airport, for instance) with a rental bike so you can have the motorcycle trip of a lifetime
touring BC & Washington. Non-Canadians may want to consider this option, because Seattle is so close to BC.
( $50 discount off your rental if you show them a copy of one of our books!)


Thompson Plateau

Highland House B&B Inn (Logan Lake) DH Reviewed
250.523.2766 www.highlandhouse.ca
12% off rates
Logan Lake is smack dab at the junction of two lesser-traveled DHs (DH51 is a favourite of one of the co-authors) and a TE! This friendly, former guest house for the Highland Valley Copper Mine is not your average B&B, no sirree Pa. You can always talk bikes with Don, proud owner of a Harley and a Kawi (now that's what we call balanced living). And as you sit at the long, ranch-style breakfast table eating Doreen's fresh croissants with homemade strawberry jam, followed by her scrumptious eggs bennie with real hash browns, you might gaze out the panoramic windows overlooking a 100 acre or so vista and see a cattle drive. The massive stone fireplace dominates the far wall across the large, vaulted-ceiling room filled with large western-motif bronze sculptures. You could be forgiven for thinking you are in Bonanza (before Pernell Roberts left the show). Yes, a delightful Ponderosa-like oasis of calm situated in peaceful, spirit-restoring countryside filled with the calls of the rare Mountain Bluebird. Did we mention the hot tub to soak away those road-warrior aches and pains? You can feel it now, can't you??

Grand Pub & Grill (Merritt) New 2011
250.378.9819 www.grandpubandgrill.com
10% on food
Probably illegal in BC to give a discount on beer, grumble, grumble... Located right in the heart of Merritt, the jct of DH9, DH19, DH26 & DH31, so not a bad place to stop.

Quilchena Hotel (Merritt-Nicola Valley)
250.378.2611 www.quilchena.com
10% off one night 15% off two nights Sun-Thurs (Mon-Thurs on Mon Holiday weeks)
Located 20 km (12.5 mi) north of Merritt out in the country in the beautiful Nicola Valley on one of our favourite DHs (DH31), this 100 old hotel/restaurant/saloon/store/gas station with the friendly, helpful and efficient staff has always been a favourite stopping point for us in BC. Make sure to check out the bullet holes in the bar.

The Inn at Spences Bridge (Spences Bridge) DH Reviewed
10% off all accommodation
866.849.3940 / 250.458.2311 garudainn@hotmail.com
A charming B&B Inn (formerly the Garuda Inn) perched over the Thompson River rapids at the junction of DH29 and DH9. Also nearby are DH40, DH51 and others, so it's a natural choice to stop for the night. It has 12 rooms with shared or private baths, indoor and outdoor dining and a large guest lounge. Hosts Ray and Lynne run a flavourful vegetarian restaurant that serves breakfast, lunch and dinner. There's fresh bread and baking daily as well as home-made desserts (did we mention the great coffee?) There are patio views of the river, CPR railway, rugged mountains, ospreys nests, hummingbirds and if you're lucky – big horned sheep. (The Inn is not licensed but there is a pub nearby. Thank God.)


Add Your Discount:
Destination Highways Discount Program

According to industry stats, the median age for pavement riders has risen to over 40. Today's motorcycle tourer is increasingly middle aged, middle class and well educated. And increasingly female: 40% of those taking rider training are women. These are the riders who buy and use Destination Highways.
And "DH Rider Discounts" will attract this kind of customer to your business:
"The number of riders that come and visit us is growing strongly."--Halcyon Hot Springs Resort, Nakusp BC
"Your site has been very beneficial to me already." -- Cozy Quilt Motel, Yahk BC
Sign up below:
We list the name of your business/organization, town, phone number, email address and/or website (if you have either) and the discount you choose (percentage, fixed amount, two for one, specific item etc)
for FREE!!!
You can offer a discount for whatever period you choose and remove it anytime just by contacting us.
Participating businesses will receive by mail an instantly recognizable Destination Highways display
sticker that will encourage our riders to ask for the discount and also instantly identify an establishment offering a welcome reception to riders.
Any business with a website will be expected to display a reciprocal link to destinationhighways.com
(with logo) as described at:
http://www.destinationhighways.com/linkinfo.htm
To receive a discount a motorcyclist
must show you a copy of
Destination Highways BC. Listings found by our mystery riders not conforming to this rule are subject to immediate removal from the website.
If you know any other businesses who might want to help attract motorcycl

e trade to your area, we urge
you to let them know about our discount program. The more that offer DH Rider Discounts, the better it is for every business in that area. Each discount gives riders one more reason to stop in your community rather than somewhere else.