Feature Destination Highway: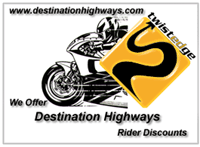 The businesses below displaying the sticker to the left offer a "DH Rider Discount". Print this list off, take it with you, show your copy of DHBC (or DHWA) and ask for the discount. Use a few of these and it's like getting the book(s) for free!

If you're a business who wants to attract the increasing number of Destination Highways motorcyclists in your area, join our Destination Highways Discount Program described below the listings at Add Your Discount.



They'll meet you in Washington (at Seattle's SeaTac airport, for instance) with a rental bike so you can have the motorcycle trip of a lifetime
touring BC & Washington. Non-Canadians may want to consider this option, because Seattle is so close to BC.
( $50 discount off your rental if you show them a copy of one of our books!)


Fraser - Similkameen

Anna's Incense (Hope)
604.869.2796 www.annasincense.ca
Double Your Incense FREE!
And there really is an Anna. Say hi to her for us, if you can see her through the haze. Definitely worth a visit for those of you who can't see beyond Hope without incense. And God, I know I'm one...

Manning Park Resort (Manning Park) New 2010
250.840.8822 www.manningpark.com
10% off lodge room or cabin
Unable to finish off DH44 in one shot?? Then why not overnight in the middle of it at this historic lodge and save some coin at the same time? (Just don't expect your cel phone to work or have internet service.)

Princeton Castle Resort (Princeton)
250.295.7988 / 888.228.8881 www.castleresort.com
10% off rack rate
This 120-acre property just outside of Princeton on DH72 is located among the castle-like ruins of a cement company empire in its own little valley with creeks and meadows. The resort offers everything from a budget overnighter in a cabana to a lodge room or a chalet. You can even stay in their teepees. Take advantage of all the recreation offered at Princeton Castle – boating, bocce, horse riding, ATVs, swimming or massage therapy. Please call ahead for reservations if possible and ask about additional weekday specials.

Villager Inn (Princeton)
250.295.6996 / 877.295.6996 www.villagerinn.ca
10% off best eligible rate
Motorcycle friendly, this place provides riders with wiping cloths for their bikes!! Free continental breakfast is included. Indoor common area for group get-togethers as well as a heated outdoor pool in season. There is a BBQ for the use of guests.

Add Your Discount:
Destination Highways Discount Program

According to industry stats, the median age for pavement riders has risen to over 40. Today's motorcycle tourer is increasingly middle aged, middle class and well educated. And increasingly female: 40% of those taking rider training are women. These are the riders who buy and use Destination Highways.
And "
"The number of riders that come and visit us is growing strongly."--Halcyon Hot Springs Resort, Nakusp BC
"Your site has been very beneficial to me already." -- Cozy Quilt Motel, Yahk BC
Sign up below:
We list the name of your business/organization, town, phone number, email address and/or website (if you have either) and the discount you choose (percentage, fixed amount, two for one, specific item etc)
for FREE!!!
You can offer a discount for whatever period you choose and remove it anytime just by contacting us.
Participating businesses will receive by mail an instantly recognizable Destination Highways display
sticker that will encourage our riders to ask for the discount and also instantly identify an establishment offering a welcome reception to riders.
Any business with a website will be expected to display a reciprocal link to destinationhighways.com
(with logo) as described at:
http://www.destinationhighways.com/linkinfo.htm
To receive a discount a motorcyclist
must show you a copy of
Destination Highways BC or WA. Listings found by our mystery riders not conforming to this rule are subject to immediate removal from the website.
If you know any other businesses who might want to help attract motorcycl

e trade to your area, we urge
you to let them know about our discount program. The more that offer DH Rider Discounts, the better it is for every business in that area. Each discount gives riders one more reason to stop in your community rather than somewhere else.