Feature Destination Highway: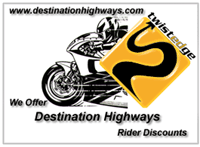 The businesses below displaying the sticker to the left offer a "DH Rider Discount". Print this list off, take it with you, show your copy of DHBC (or DHWA) and ask for the discount. Use a few of these and it's like getting the book(s) for free!

If you're a business who wants to attract the increasing number of Destination Highways motorcyclists in your area, join our Destination Highways Discount Program described below the listings at Add Your Discount.



They'll meet you in Washington (at Seattle's SeaTac airport, for instance) with a rental bike so you can have the motorcycle trip of a lifetime
touring BC & Washington. Non-Canadians may want to consider this option, because Seattle is so close to BC.
( $50 discount off your rental if you show them a copy of one of our books!)


Cariboo - Chilcotin

Rivers Edge Guest Cottages (Kleena Kleene) New 2012
250.476.1345 RiversEdgeGuestCottages.com
10% off


Little known fact: tiny mapdot Kleena Kleene, just off the Klinaklini River, was the inspiration for a travelling Kimberly-Klark (now Kimberly-Clark) executive who came up with the eponymous Kleenex name to follow up on his earlier successful branding of their Kotex product . If you're heading to Bella Coola or just to the end of DH61, you may want to consider this place (23km / 14 mi west of Tatla Lake) to overnight. Its two self catering cabins with private bath and kitchenette (one sleeps two, the other six) are in a secluded 40-acre setting, surrounded by mountain views and bordered by the river, just one km off the the Chilcotin Hwy, halfway between Williams Lake and Bella Coola. Kleenex supplied free of charge.

Cayoosh Creek CG (Lillooet)
877.748.2628 www.cayooshcampground.ca
10% off all rates (excluding group rates)


Treed and grassed tent sites, showers and group camping. They say it's a perfect spot for rallies and will host BBQ lunches and suppers. And it's at the eastern end of the marvelous DH3.

4 Pines Motel (Lillooet)
250.256.4247 / 800.753.2576 www.4pinesmotel.com
10% off all rates on individual rooms 15% off 5 or more rooms
Coming off marvelous DH3 in a big group and looking for a place to accommodate you?

Retasket Lodge & R.V. Park (Lillooet)
250.256.2090
10% off accommodation
Retasket Springs overlooks the Fraser Canyon and Seton Valley. Their 20 renovated motel rooms are lap-top friendly and have high speed internet access. All rooms equipped with 2 queen beds, air conditioning, fridges and microwaves.

Reynolds Hotel (Lillooet) www.reynoldshotel.com
10% off room rates
The only full service hotel in town has recently renovated its rooms.

Willows Campground (Lillooet)
250.256.0429 www.willowscampground.com
10% off
7 km (4.4 mi) from Lillooet on DH40, so very close to DH3 and DH21 as well, it's uniquely situated in a country setting, overlooking the mighty Fraser River. They offer riders tent sites with full facilities.

Rainbows End Ranch Log Cabin (Riske Creek-Williams Lake)
250.394.4262 www.westcanadatravel.com/rainbowsendlogcabin.htm
15% off summer rate


Treking out to Bella Coola? Biker friendly rest stop deep in the Chilcotin off DH61. With cross country treads you can cut off from DH3 at Pavilion to Gang Ranch and then to the Chilcotin plateau. Or alternately, take Hwy 97 north at the end of DH3 and turn west in Williams Lake onto Hwy 20 (33 km south of Hanceville, 60 km south of Riske C reek). Either way, the scenery is awesome and their cabins are listed in the approved BC Accommodation Guide.

Add Your Discount:
Destination Highways Discount Program

According to industry stats, the median age for pavement riders has risen to over 40. Today's motorcycle tourer is increasingly middle aged, middle class and well educated. And increasingly female: 40% of those taking rider training are women. These are the riders who buy and use Destination Highways.
And "
"The number of riders that come and visit us is growing strongly."--Halcyon Hot Springs Resort, Nakusp BC
"Your site has been very beneficial to me already." -- Cozy Quilt Motel, Yahk BC
Sign up below:
We list the name of your business/organization, town, phone number, email address and/or website (if you have either) and the discount you choose (percentage, fixed amount, two for one, specific item etc)
for FREE!!!
You can offer a discount for whatever period you choose and remove it anytime just by contacting us.
Participating businesses will receive by mail an instantly recognizable Destination Highways display
sticker that will encourage our riders to ask for the discount and also instantly identify an establishment offering a welcome reception to riders.
Any business with a website will be expected to display a reciprocal link to destinationhighways.com
(with logo) as described at:
http://www.destinationhighways.com/linkinfo.htm
To receive a discount a motorcyclist
must show you a copy of
Destination Highways BC or WA. Listings found by our mystery riders not conforming to this rule are subject to immediate removal from the website.
If you know any other businesses who might want to help attract motorcycl

e trade to your area, we urge
you to let them know about our discount program. The more that offer DH Rider Discounts, the better it is for every business in that area. Each discount gives riders one more reason to stop in your community rather than somewhere else.